GLOBAL CORPORATIONS TRANSFER >40% OF THEIR PROFIT TO ARTIFICIAL TAX HAVENS (Handelsblatt)
Margrethe Vestager`s investigations proved that the Apple's secretive deal with the Irish government amounted to state aid – the company paid tax at something like 0.005% – and that it therefore contravened European law. Apple owed the people of Ireland back taxes totalling a jaw-dropping €13bn (£11bn) plus interest.
That salvo against Apple was only Vestager beginning to count the ways in which global corporations might finally be held to account by European democracies. She has also driven investigations of Fiat, Gazprom and Starbucks.
The "Luxleaks" revelations, a cache of documents relating to corporate tax affairs in Luxembourg now in the public domain, allowed close scrutiny of the tax arrangements of McDonald's and Amazon for the first time.
Her team are also pursuing a case against Qualcomm (for selling computer chips below market price allegedly to drive competitors out of business) and fined Facebook €110m (£94m) over the data mining of Whatsapp accounts, which contravened its takeover terms.
There are also three separate antitrust cases against Google, which accuse it of using a mixture of algorithms and dominance to destroy competition. The first of these, which insists Google skewed its search results to favour its own online shopping services, led to a €2.4bn (£2.14bn) fine. The others, including what Vestager calls the "real heavyweight one", which alleges that the Android platform has built-in monopolies, are pending.
FUTURE POLITICAL BATTLES SHOULD BE BETWEEN DEMOCRACIES AND GLOBALISED COMPANIES INSTEAD OF AMONG NATIONS
Vestager has been quietly asserting her understanding that the political battles of the present and the future should not be among nations, but between democracies and globalised corporations, which for too long have had things their own way. Those battles can't be fought by individual countries because global companies just base themselves elsewhere (look at the UK and its secret state aid of GBP 80 mio for Nissan to make them stay in Sunderland after Brexit). But if a market the size of the European Union starts to assert its collective interest, then the corporations might have to take notice, act fairly and pay tax.
THE MARKET IS NOT THE SOCIETY. THE MARKET HAS TO SERVE SOCIETY.
According to the Danish EU commissioner, the idea of "free trade" and regulation by tariffs has to be replaced by the idea of creating relationships and reciprocity:
'If you do this, you can sell it to us, and we will commit to the same standards.'" In that way, she suggests, "we can use trade agreements to address working conditions, animal rights issues, environmental issues across the world.
For a long time that marketplace has seemed out of kilter, to be the engine of vast inequality and of the cynicism and anger that accompanies it. Vestager acknowledges that after the financial crash, little was done to repair a system that had proved so damaging, and too much effort was put into restoring the status quo. If European government is seen to apply its rules fairly to Google and Fiat and Starbucks and the rest, though, it can send a powerful message. How does she define that message?
Cit: "That the market is not the society. For a long time we have been told that is all it is. But the market is there to serve us as citizens. If the market becomes everything, you have this feeling that you are being cheated all the time, and that you are not in control. I think we have the power to change that."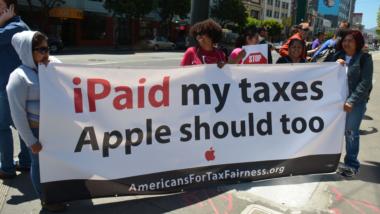 NO TAXES, NO DEMOCRACY, NO WEALTH FOR REGULAR PEOPLE, NO SOCIAL PEACE, NO HUMANISM, NO FUTURE
THINK TWICE BEFORE YOU WASTE YOUR MONEY FOR STAFF YOU DON`T NEED ANYWAY….
THE HALL OF SHAME
Major antisocial tax cheaters….
Starbucks (is paying NO taxes in Germany & France)
Amazon (German tax loss of € 40 mio in 2012 only)
Disney (has founded a bank in Luxembourg to which they transfer their profits and finally pay <1% taxes)
Google (tax haven: Ireland, Google was sued by France: €1,6 bn back tax, Italy: 227,5 mio back tax in 2016)
The Catholic Church (tax evasion thanks to the Netherlands)
Facebook (has paid just GBP 4.327,- taxes in UK in 2014, although UK is the 2nd largest market of facebook)
McDonalds (transfers its profits to Luxemburg and is paying <1% taxes; McDonalds is sued by the EU & France, where McD generates € >75 mio profits p.a. because of this practice)
Apple (2016 Apple has generated €19 bn profits on Bermuda Island – 0% tax)
IKEA (about 10% tax only thanks to komplex corporate structure)
ZARA
and others
BIGGEST TAX EVASION ASSISTANTS:
KPMG
PricewaterhouseCoopers,
Ernst & Young,
Deloitte
and others
From 1985 to 2018 the average corporation tax fell from 50% to 24% globally.
Recently, The United States further decreased the corporation tax from 35% to 21%.
A Danish study (Copenhagen Business School & University of Berkeley in cooperation with the Danish finance ministry) shows that Europe is losing at least 1/5 of their corporation tax income due tax exiles. This is only the direct tax loss. Further loss of tax income is caused by tax decreases in favor of corporations to avoid the transfer of profits to tax havens.
90 – 95% of all offshore transactions serves tax evasions.
The damage for Europe is estimated by € 1.000 bn according to the EU commission.