When I came across David Hollanders awesome work the first time, I thought the "classy" terracotta-colored body fragments with cracks or completely broken bodies might be archaeological findings…Despite of being damaged and broken, they outlast time and become gracefully an integral part of their surroundings – like the beautiful horse heads.
Frankly speaking, a few art pieces – in particular sculptures of the series "Hands" – are a bit scary in my view. I felt unconfortable looking at them. Please, feel free to visit his website to gain your own impression. In fact, these hands (that seem to burnt or hurt) or other body parts remind me on the forensic medicine lectures a took, when I was a student. I also thought of grave goods, but maybe I am off the track.
Well, I guess art shall communicate with the viewer, provide food for thoughts and in a best case scenario, arts shall also trigger emotions. Thus,….well done, David.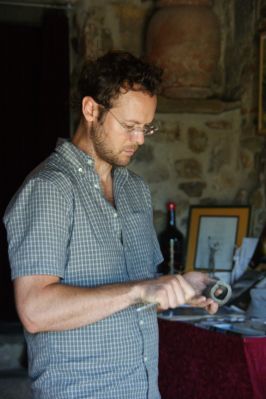 ABOUT THE ARTIST
David Hollander is an US American sculptor, who lives in Colorado close to the Rocky Mountains.  He spent a year and a half living and traveling through Dublin, Bologna, Lecce, Rome, Crete, Paris, Abu Dhabi, Istanbul. David has also lived and sculpted in Sydney, Australia and Seattle, Washington.
He is an MFA candidate in Ceramics at Cranbrook Academy of Art in Bloomfield Hills, Michigan and showcased his art pieces at various notable international exhibitions. His work is part of different private collections. Furthermore, David Hollander has created various public installations in the States, Canada, Australia and Europe.  
His Education
MFA Candidate, Cranbrook Academy of Art, Bloomfield Hills, MI, 2019.
BA, Cum Laude, Ceramic Arts, Minor in Physics, University of Colorado, Boulder, 2002.
Exchange, University of New South Wales, Sydney Australia, 1999-2000.
His Residencies and Fellowships
Fellowship Recipient, Resident Artist, La Macina di San Cresci, Greve, Italy, 2012.
Resident Artist, Paese dei Balocchi, Bologna, Italy, 2010.
Resident Artist, Pottery Northwest, Seattle WA, USA, 2004-2006.
His Teaching, Lectures, Publications
"Contemporary Clay Shapers 2: Thinking Through Material" Monthly Ceramic Art, South Korea, July 2018, Vol. 268.
Teaching Artist at Cranbrook Art Museum Create Camps, Bloomfield Hills MI, 2018.
Visiting Artist Lecture, Zayed University, Abu Dhabi, United Arab Emirates, 2010.
Sculpture Instructor at Kirkland Art Center, Kirkland WA, USA, 2009.
Sculpture Instructor at Pottery Northwest, Seattle WA, USA, 2006-2009.
For further information, David Hollander can be reached at dfhollander@gmail.com
Please, feel free to visit his website too: https://www.dfhollander.com/